Backtest STPT & Stocks, Forex, Indices, ETFs, Commodities
100,000 available assets New

years of historical data

practice without risking money

Algorithmic Strategies & Backtesting results for STPT
Here are some STPT trading strategies along with their past performance. You can validate these strategies (and many more) for free on Vestinda across thousands of assets and many years of historical data.
Algorithmic Trading Strategy: Algos beat the market on STPT
Based on the backtesting results statistics for the trading strategy, which was implemented from March 15, 2020 to March 15, 2021, the strategy has shown promising performance. With a profit factor of 1.21, indicating that for every unit of risk taken, 1.21 units of profit were generated, the strategy demonstrates a positive outcome. The annualized return on investment stands at an impressive 67.45%, indicating significant profitability over the specified period. On average, each trade was held for approximately 1 day and 23 hours, with an average of 1.45 trades executed per week. Out of the 76 closed trades, 67.11% were winning trades, further reinforcing the strategy's positive track record.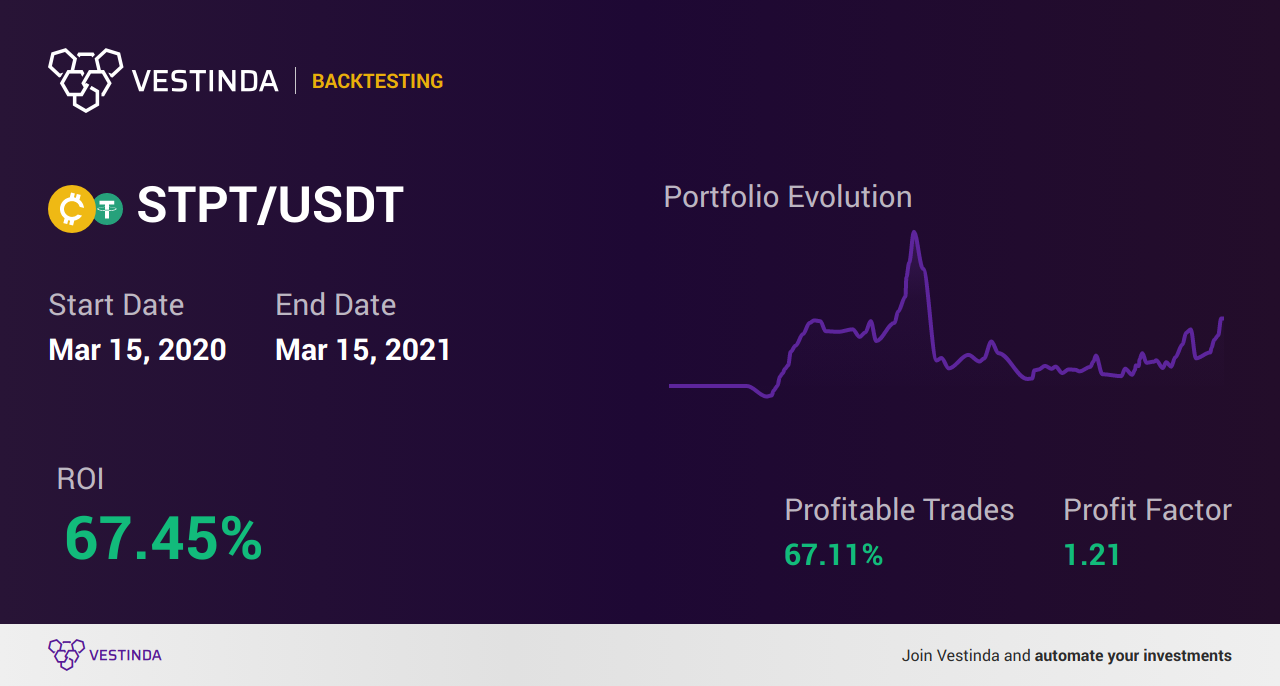 Algorithmic Trading Strategy: Template - LONG DEMA and Bollinger Bands on STPT
Based on the backtesting results statistics for the trading strategy, which was conducted from March 15, 2020, to March 15, 2021, several key findings emerge. The profit factor stands at 1.43, indicating that for every dollar risked, a profit of $1.43 was generated. The annualized return on investment (ROI) achieved an impressive 72.18%, showcasing a substantial increase in the initial investment over the one-year period. On average, trades were held for approximately 4 days and 6 hours, and the strategy yielded an average of 0.88 trades per week. With a total of 46 closed trades during the period, approximately 28.26% of them were winning trades. Overall, these results highlight the strategy's success potential and profitable outcomes.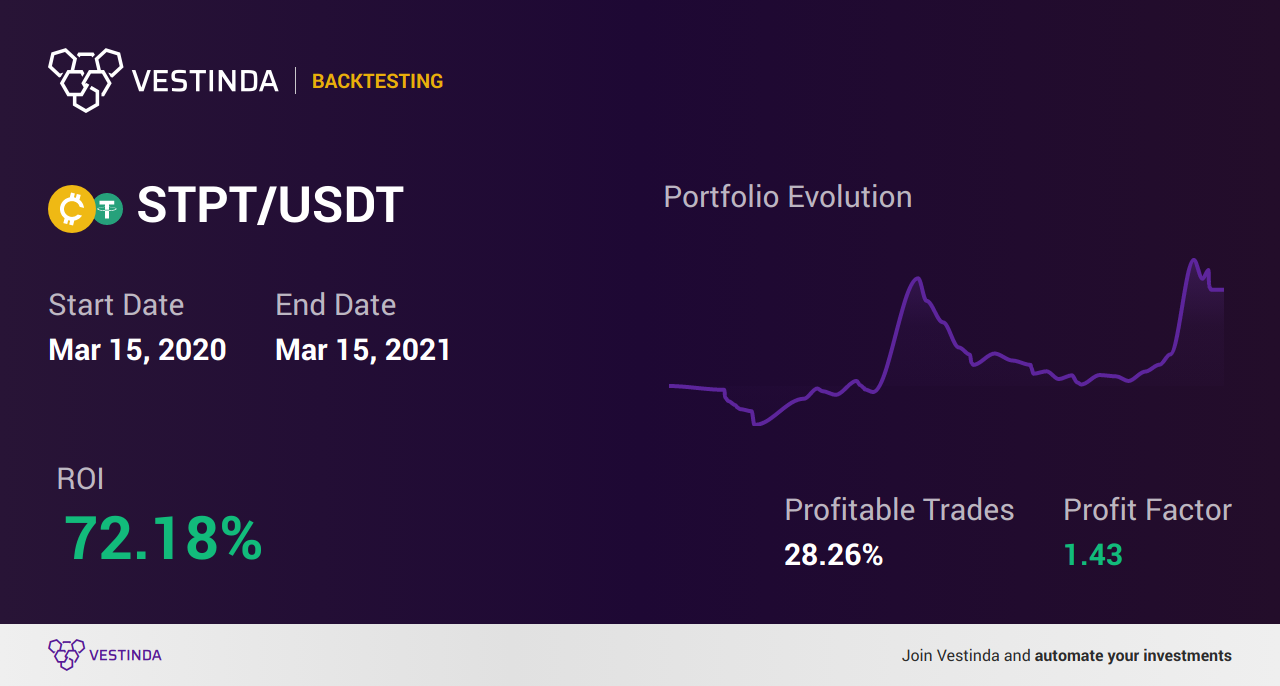 Algorithmic Trading Strategy: Invest for the long term on STPT
During the period of March 15, 2020, to March 15, 2021, the backtesting results for a trading strategy revealed promising statistics. The profit factor stood impressively at 4.98, indicating a substantial gain in profitability. The annualized ROI was recorded at an impressive 50.84%, highlighting the potential for significant returns on investment over a year. The average holding time for trades spanned a period of 7 weeks and 2 days, suggesting a moderate investment horizon. With an average of 0.03 trades per week, the strategy demonstrated a cautious approach. The number of closed trades amounted to 2, showcasing a meticulous selection process. Furthermore, the winning trades percentage was noted to be at 50%, reflecting a balanced success rate.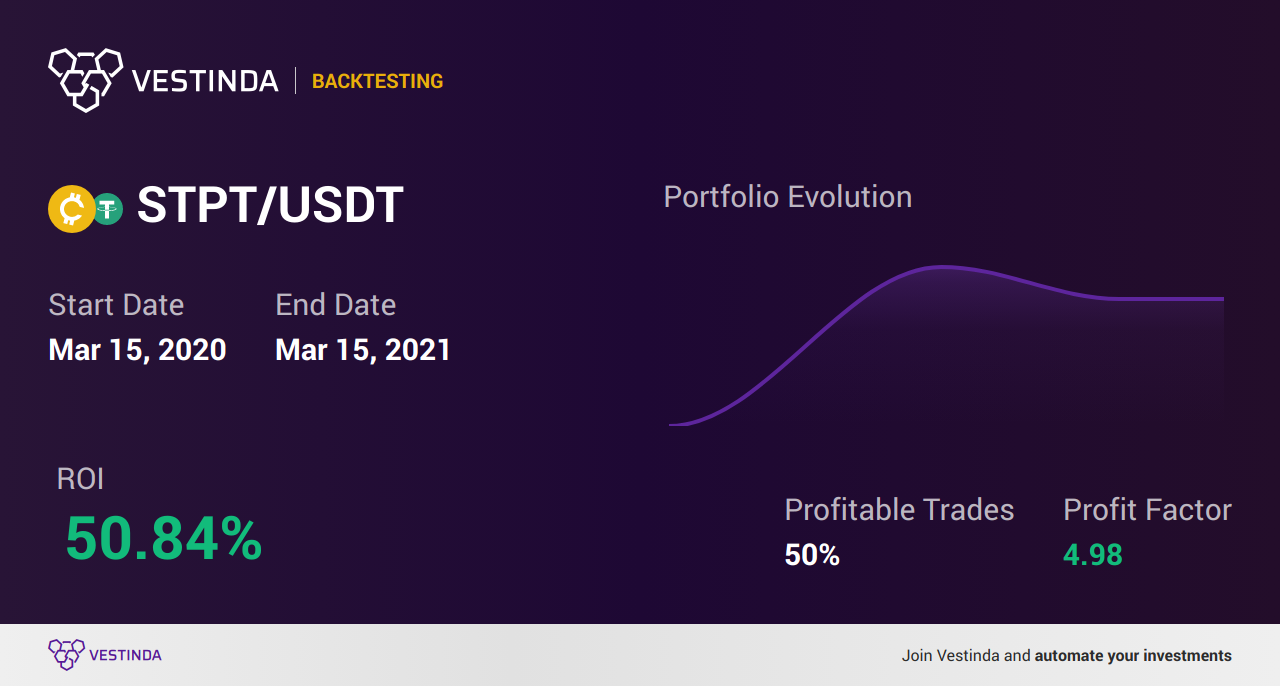 Unveiling the Unique STPT Crypto Asset
STPT, also known as Standard Tokenization Protocol, is a unique cryptocurrency asset that stands out in the crypto market. It is designed to enable the tokenization of real-world assets through blockchain technology. What sets STPT apart is its ability to bridge traditional finance with the decentralized nature of cryptocurrencies. By tokenizing assets such as real estate, stocks, or commodities, STPT opens up new avenues for investment and trading opportunities. Its innovative approach appeals to investors seeking diversification and a more inclusive financial landscape. With its growing popularity, understanding STPT and its potential is essential for traders in 2023.
Analyzing STPT Trading Strategies through Backtesting
Backtesting Trading Strategies for STPT
When it comes to trading STPT, backtesting is a crucial step in determining the effectiveness of your trading strategies. Backtesting involves analyzing historical data to see how a particular strategy would have performed in the past. This process enables traders to assess the profitability and feasibility of their strategies before implementing them in real-time trading.
To backtest a trading strategy for STPT, you need to start by defining the parameters of your strategy. This includes determining entry and exit points, setting stop-loss and take-profit levels, and considering factors like indicators or price patterns.
Next, you can use a variety of tools and platforms to backtest your strategy. These tools allow you to apply your strategy to historical STPT price data and assess its performance based on factors such as profitability, risk-reward ratio, and drawdowns.
The key advantage of backtesting is that it provides insights into the potential strengths and weaknesses of your strategy. It enables you to fine-tune and optimize your approach, making it more robust and reliable for real-world trading.
However, it's important to note that backtesting has limitations. Past performance does not guarantee future results, and market conditions can change. Therefore, it's crucial to regularly monitor and adjust your strategies based on the current market dynamics.
In conclusion, backtesting trading strategies for STPT is an essential part of the trading process. By thoroughly analyzing historical data, you can gain valuable insights and improve your chances of success in the fast-paced cryptocurrency market.
Mitigating Risks in STPT Trading
Risk Management for STPT
When trading STPT, implementing effective risk management strategies is crucial to protect your investment and minimize potential losses. Here are some essential risk management techniques to consider:
1. Set Stop-Loss Orders: A stop-loss order is a predetermined price level at which you automatically exit a trade to limit potential losses. By setting stop-loss orders, you can protect yourself from unfavorable market movements and ensure that losses are kept within acceptable limits.
2. Diversify Your Portfolio: Avoid putting all your eggs in one basket by diversifying your investment portfolio. Allocate your funds across different assets, including STPT and other cryptocurrencies, to reduce the impact of any single asset's price fluctuations on your overall portfolio.
3. Use Proper Position Sizing: Determine the appropriate size of your positions in proportion to your overall portfolio. This ensures that you don't overexpose yourself to any single asset, such as STPT, and helps manage risk by allocating an optimal amount based on your risk tolerance.
4. Regularly Review and Adjust: Markets are dynamic, and conditions can change rapidly. Regularly review your trading strategies and risk management techniques to adapt to the evolving market environment. This allows you to stay ahead and be prepared for potential risks.
5. Educate Yourself: Stay informed about the cryptocurrency market and specifically STPT. Understanding the factors that influence STPT's price movements can help you make more informed decisions and better manage risks.
By implementing these risk management techniques, you can trade STPT with a greater degree of confidence and mitigate potential financial losses. Remember, prudent risk management is essential for long-term success in the cryptocurrency market.
Start earning fast & easy
Create
account

Build trading strategies
with no code

Validate
& Backtest

Connect exchange
& start earning
Frequently Asked Questions
Where do you trade STPT and other crypto?
You can trade STPT and other cryptocurrencies on various cryptocurrency exchanges. These exchanges are online platforms where you can buy and sell different cryptocurrencies. Some popular exchanges include Binance, Coinbase, and Kraken. To trade, you will need to create an account on one of these exchanges, complete the verification process, deposit funds into your account, and then you can start trading. It's important to do your research and choose a reputable exchange that offers the cryptocurrencies you are interested in trading. Always be cautious and aware of the risks involved in trading cryptocurrencies.
What is the best indicator for crypto technical analysis?
The best indicator for crypto technical analysis may vary depending on the trader's strategy and preferences. However, one commonly used indicator is the Moving Average (MA). MA helps identify trends by smoothing out price fluctuations over a specific period. Another useful indicator is the Relative Strength Index (RSI), which measures the overbought or oversold conditions of an asset. Additionally, the MACD (Moving Average Convergence Divergence) can be helpful in determining potential buy or sell signals. It's important to note that no single indicator guarantees success in trading, so it's recommended to use multiple indicators in conjunction and consider other factors as well.
What are the methods to evaluate crypto trading?
There are several methods to evaluate crypto trading. Fundamental analysis involves researching and analyzing factors like the project's technology, team, adoption, and market demand. Technical analysis focuses on studying price patterns, trends, and indicators to predict future price movements. Sentiment analysis considers the overall market sentiment and investor behavior. Additionally, market news and events can impact crypto prices, so staying informed and keeping track of relevant information is crucial. It's important to combine these evaluation methods and consider various factors when making trading decisions. However, it's worth noting that investing in cryptocurrencies carries risks, so caution is recommended.
What are the best automated trading strategies for crypto in general?
The best automated trading strategies for crypto in general depend on individual preferences and goals. However, some popular strategies include trend following, mean reversion, and momentum trading. Trend following involves trading in the direction of the prevailing market trend. Mean reversion aims to take advantage of price deviations from their average levels. Momentum trading focuses on identifying assets with strong price momentum and trading accordingly. It's important to backtest and optimize these strategies using historical data before implementing them. Additionally, risk management and monitoring are essential when using automated trading strategies in the volatile crypto market.
How to trade cryptocurrency daily with 100 dollars?
To trade cryptocurrency daily with 100 dollars, start by selecting a reputable cryptocurrency exchange that accepts small trading amounts. Open an account, complete the verification process, and deposit your funds. Allocate a percentage of your capital for each trade and stick to it. Research and analyze cryptocurrencies you are interested in trading, considering their price trends and market news. Set entry and exit points based on your analysis. Place your orders on the exchange, keeping in mind any applicable trading fees. Monitor your trades closely, and consider using stop-loss orders to manage potential losses.
Conclusion
In conclusion, developing effective trading strategies for STPT is crucial for success in the cryptocurrency market. By understanding the unique features of STPT, conducting thorough market analysis, utilizing backtesting techniques, implementing risk management strategies, and staying informed about market trends, traders can enhance their chances of making profitable trades. Remember to adapt and refine your strategies based on changing market conditions. Trading STPT requires careful consideration and continuous learning, but with the right approach and dedication, you can navigate the exciting world of cryptocurrency trading with confidence. Start exploring the possibilities of trading STPT and unlock opportunities for financial growth.