Blockchain networks have sourced different scalability solutions over the years to compete with traditional finance systems like VISA. While VISA processes about 55,000 transactions per second, Bitcoin can only process about seven transactions per second.
This is not sustainable in the long run, as the goal of blockchain is to make financial operations easier and faster. Thus, blockchain developers constantly seek solutions to improve scalability without tampering with security, decentralization, and network speed. With these limitations in mind, the developers of Elrond came up with a solution using a unique technology.
MultiversX, former Elrond, is a blockchain network whose target is to build a blockchain ecosystem that allows the development of decentralized applications (DApps) for different use cases, using the Layer 1 sharding system as a solution to scalability.
If you're curious about Elrond, we have dissected every vital piece of information you need to know about this project, so read on to find out.
What is MultiversX, former Elrond?
Elrond is a public blockchain network that uses smart contracts and a Layer 1 sharding solution to solve scalability problems and allow users to develop decentralized applications (DApps), thus creating a new internet ecosystem.
Solving these scalability issues makes transactions faster, transaction fees lesser, and more transaction volume per second. Currently, the Elrond blockchain network is reported to process about 15,000 transactions per second. It is regarded as one of the fastest blockchain networks with a latency speed— the time between a transaction's initial acceptance and execution by the network— of five seconds and fees as low as $0.001.
Elrond's native token, eGold (EGLD), is a multipurpose token used for staking and transacting on the network. It launched with an initial price offering of $0.65 and has reached an all-time high of $543. Its current price is around $57, with a total circulating supply of over 23 million EGLD coins, a max supply of over 31 million EGLD coins, and a live market cap of over $1.3 billion.
Since Elrond's launch, it has consistently displayed efficiency in terms of functionality. It provides developers with a secure and scalable platform on which DApps of different utilities have been built, and it promises more innovations as time goes on. 
Elrond rebranded to MultiversX in November 2022 and is shifting its focus towards the growing metaverse market.
History of Elrond
As explained earlier, developers have been searching for scalability solutions for blockchain networks. Elrond was created as a solution for scalability using a unique Adaptive State Sharding technology and Proof-of-Stake (PoS) consensus mechanism to make it secure and linearly scalable.
The core team comprises 25 highly reputable people, 15 of whom are software engineers and researchers, and the rest in different administrative and technical roles. Three co-founders lead the team; Beniamin Mincu, Lucian Mincu, and Lucian Todea, and each of them have achieved excellence in the blockchain/fintech space.
Elrond officially launched on July 30th, 2020, after being developed for 2.5 years, and has been supported by over $5 million of investors' funds. So far, it has upheld its promise of a permissionless, borderless and open blockchain system and promises more future innovations.
How does Elrond work?
Elrond aims to build a secure, high-throughput, decentralized, scalable blockchain network.
To achieve this, they make use of a host of unique technologies, namely;
Adaptive State Sharding

Secure Proof-of-Stake (SPoS) system

Elrond's Virtual Machine or Integrated Development Environment
To understand how these technologies come together to work as a unique scalability solution, we'll explain how they work individually.
Adaptive State Sharding
Sharding is a technique that involves splitting networks into fragments called shards, thus allowing nodes to process that portion of the network's transactions. Adaptive state sharding, which is Elrond's technique, is a sharding technique that combines the three types of sharding to reach its maximum capacity. The three sharding types are;
Network sharding— a sharding process of grouping nodes into shards to optimize communication and send messages faster.

Transaction sharding— this is done by sectioning transactions based on specific criteria and processing those transactions in parallel to other shards.

State sharding— this is done by dividing the blockchain history into different sections of the network and maintaining a portion of the state in each shard.
Adaptive state sharding merges these three techniques into a unique solution that makes parallel processing possible, improves shard communication, and increases the blockchain's performance. It also makes it possible for transactions to be tracked, maintain stability, increase throughput and reduce fees without reducing overall functionality.
Secure Proof-of-Stake (SPoS) System
Secure Proof-of-Stake is an advanced version of the original Proof-of-Stake mechanism that connects all the nodes in the network that were separated by sharding. This way, a node in a shard can decide which nodes can participate in the consensus process, and it saves the time that would have been used to form a consensus group and select random validators.
Elrond's Virtual Machine or Integrated Development Environment
This Elrond feature utilizes smart contracts to help developers create decentralized applications for different products and services. Developers can run various programming languages like C, C++, Rust, Go and TypeScript and use them to build DApps that private or enterprise users can use. Furthermore, the Elrond Virtual Machine is compatible with Ethereum's VM, allowing Ethereum smart contracts to function efficiently. These three technologies merge to make Elrond a unique, scalable blockchain network.
Using the Adaptive State Sharding helps Elrond to break the network into smaller pieces for nodes to validate transactions faster. This way, over 15,000 transactions can be processed per second on Elrond with low fees. Secure Proof-of-Stake system ensures that the Elrond ecosystem remains secure through staking.
All nodes in the ecosystem need to stake EGLD to secure the network, and the nodes act as validators. They guard and validate the network by bringing the shards together and checking block producers. Transactions on the network are validated before settlement to ensure a secure network and avoid double-spending.
Validators are also randomly selected and shuffled to prevent malicious schemes. They are also rated by their activity, and if a validator's activity is too low, they may lose their role and be fined too. Along with the Virtual Machine, these technologies help maintain Elrond's decentralization and security while providing faster throughput and scalability.
Automated & effortless crypto investing
Protect your portfolio during bear markets with Vestinda
The EGLD Token
Elrond's native token is Electronic Gold (eGold) with the ticker EGLD. It aids the functioning of the Elrond network and is used for platform governance systems, staking, rewards, and payment for transactions and smart contracts. EGLD draws its value from the functionality of the Elrond network as a whole. The unique technology, scalability, offering of enterprise-grade solutions, and other use cases determine the token's intrinsic value.
In the market, EGLD's value is determined by its changing market price, which is also prone to changes and trend reversals. It is also affected by volatility and other factors that plague the crypto market, thus causing a swing in prices. CoinMarketCap says that EGLD is currently priced at $57.20 as of October 26, 2022, with a circulating supply of 23,606,416 EGLD and a maximum supply of 31,415,926 EGLD tokens.
It is said to be distributed as follows:
Launchpad sale: 25%

Private token sale: 19%

Team: 19%

Reserve token: 17%

Marketing: 8.5%

Ecosystem Rewards: 7%

Advisors: 2.5%

Community: 2%
Over a ten-year period, new EGLD coins would be released till it reaches the maximum supply.
Is Elrond EGLD a good investment?
Starting at $0.65 and rising to an all-time high of $543, EGLD has shown great potential since its launch. Despite having many supporters, speculations still arise about whether the EGLD token is valuable and if it is a good investment.
Many analysts predict that EGLD's future is bright, as they still have many exciting features to roll out, strong use cases, a solid team, and a strong community. These check the boxes of a successful blockchain network, thus making it a viable investment.
The Elrond team keeps improving the blockchain network, making it more user-friendly and adding more valuable features to retain its value and usage. The team tells users to anticipate new features like integrated web3 payment solutions, an NFT marketplace, merchant yield, Elrond gamify, and many more. By the time these projects launch, they have the potential to grow the user base, thus adding more value to the price of the token.
Conclusion
Elrond is providing an outstanding and competitive scalability solution for Layer 1 blockchain systems by combining Adaptive State Sharding and a Secure Proof-of-Stake system to yield faster transactions of up to 15,000 transactions per second, scalability, decentralization, and security. As the project continues to evolve, they hope to be the future of the new internet by offering DApp development and deployment for public and enterprise-grade use.
In summary, they have created a blockchain ecosystem where users can enjoy faster blockchain technology without the risk of security infringements and decentralization.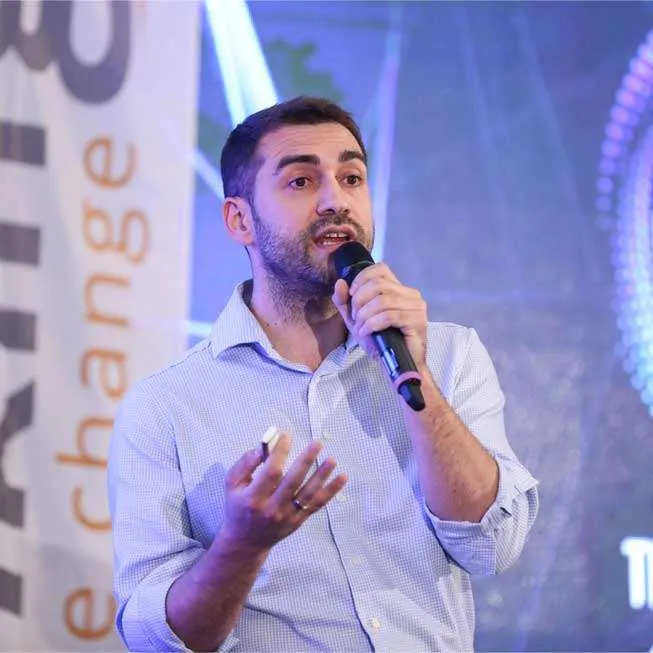 Founder & CEO of Vestinda.
Compacting years of investment portfolio building into just a few minutes.
https://www.vestinda.com/wp-content/uploads/2022/11/Blog-posts-cover-image-44.png
423
1210
Alin Breabăn
https://www.vestinda.com/wp-content/themes/vestinda/img/v-logo-header-color.svg
Alin Breabăn
2022-11-01 12:05:55
2022-11-12 12:13:38
What is MultiversX (former Elrond)?