Tell us a few words about yourself and what made you enthusiastic about crypto.

My name is Jennifer Shirin and I was born and currently living in Frankfurt.
I speak Farsi since I was little because my father is from Iran. Although my mother is from Poland, I don't speak Polish. I lived in Paris for half a year, which is why I can also speak French. When I was in school, I had to study Latin for seven years – it was definitely not my favorite subject!
Ever since I was a little girl, I was aware of my family's stock investments and that sparked my curiosity to learn more about the financial market. At the age of 16, I decided to pursue a career in the financial sector and applied to one of the top universities in Frankfurt, where I completed my degree in Finance and Management.
After working in investment banking, I got to know the true face of the banking world. Working hours from 9 a.m. to midnight were the standard and coming into the office on Saturdays was also the norm. I didn't have a work-life balance and I felt burned out.
Although I heard about cryptocurrencies as a teenager, it was only ever talked about in a negative context.
At the end of 2017, I decided to invest in Bitcoin for the first time and actively dealt with cryptocurrencies and recognized the potential of a completely new digital and decentralized currency system. Cryptocurrencies disrupt the traditional financial system, the blockchain is an opportunity for the whole world. Cryptocurrencies have made it possible for me to be financially free.
Who is your hero (in business or personal life)?

It's hard to just pick one name because I have several people that I look up to and have learned a lot from in terms of mindset, finances and self-confidence.
What are the topics that you cover in your youtube & tiktok videos? 

On my YouTube channel, I give daily updates on Bitcoin and altcoin trading and relevant news in the crypto world that can have a positive or negative impact on the price.
In my TikTok videos, I explain short and precise the basics for crypto beginners and price predictions for relevant cryptocurrencies.
If you could hold only 3 crypto assets for the next 5 years, which would they be and why?

Bitcoin: As more institutional investors jump in and it is now Legal Tender in several countries around the world. I see bitcoin at least at $150,000 in the next few years.
Ethereum is the pioneer of a blockchain smart contract platform which has survived every past crisis, I see Ethereum at least at $10,000 in the next 5 years.
Hedera isn't built on a conventional blockchain, it uses a completely different type of distributed ledger technology known as a Hashgraph. Its technology allows it to improve speed, cost, and scalability.
Describe crypto in one sentence

Life-changing opportunity for people willing to take a risk.
How do you see blockchain impacting the world moving forward?

Blockchain will fundamentally change how we live and work in the future. It can be used to securely & efficiently transfer user data across platforms and systems in no time and it can be applied to many industries around the world. Its technology will revolutionize lending, security, consumerism, business models and digital property – the whole potential of its capabilities will be shown in the nearer future as it will completely change our world.
What piece of advice do you wish you'd had as a crypto beginner?

Knowledge is key, before investing in anything, make sure to really understand what the project does. Only invest what you can lose, you can't blame anyone for your financial decisions but yourself.
Copy crypto strategies with Vestinda
Diversify and grow your portfolio with ready-made, validated investment strategies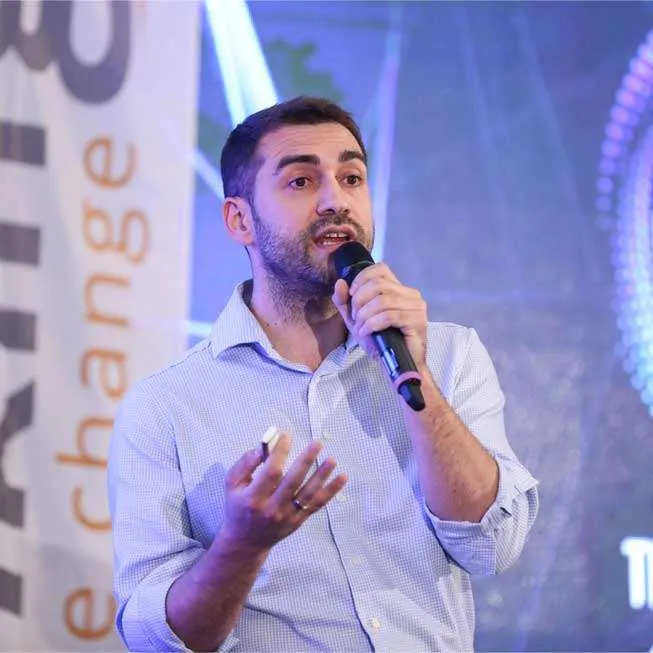 Founder & CEO of Vestinda.
Compacting years of investment portfolio building into just a few minutes.
https://www.vestinda.com/wp-content/uploads/2022/06/Blog-posts-cover-image-21.png
423
1210
Alin Breabăn
https://www.vestinda.com/wp-content/themes/vestinda/img/v-logo-header-color.svg
Alin Breabăn
2022-06-09 14:18:30
2022-10-18 08:51:15
Jennifer Shirin on how blockchain will completely change our world